Tails Levels:
Boss: Doctor Eggman
Prison Lane
Mission Street
Route 101
Hidden Base
Eternal Engine
Boss: Doctor Eggman
Miles "Tails" Prower
w/ Cyclone
A fox with two tails. His mechanical ability to build machines is equal to that of Eggman. This time, he plays an active role using his new machine, "Cyclone" to support Sonic. Don't be afraid, you can win!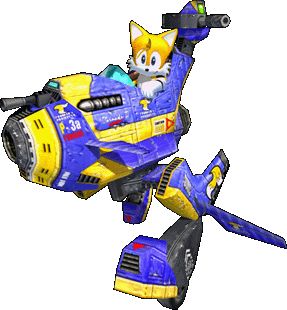 When you are Tails you control him in his latest machine, Cyclone. It is cool because you can shoot and hover in it!